Table of Contents
Fall 2023 Newsletter
Upcoming Alumni Events
Join current students, faculty and alumni for the University of the Pacific Alumni Reunion during the 2023 CAA conference in San Jose, CA. Make your travel arrangements now!
Alumni Spotlights
Lily Lai, Au.D. – Class of 2020
Prior to audiology, I worked in product management for 10+ years. I wanted to explore a new career path that helps people on a more personal level. After volunteering at a hospital and senior home, I chose audiology because it is a much-needed area of care. Patients of all ages benefit from the care of audiologists. We get to make a positive impact on learning outcomes for children with hearing loss in schools. We also get to help our adult patients continue doing the things they enjoy, maintain their social lives and relationships, and improve their quality of life.
I learned a lot from my professors and fellow classmates at UOP and received a lot of experiential learning in the student clinic and internships.
I am currently an educational audiologist working for the San Francisco Unified School District. More recently, I had the opportunity to guest lecture at UOP about the field of educational audiology.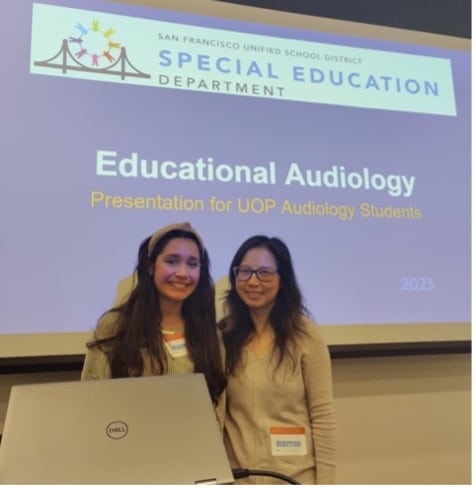 Esther Pugh, Au.D. – Class of 2019
I am so grateful to be considered for the Alumni Spotlight! I initially learned about audiology in high school as my high school was one of the few with an American Sign Language program. I knew immediately after my ASL classes that I wanted to work within the hard of hearing population and went on to dispense hearing aids for several years before returning for my doctoral. University of the Pacific's audiology program gave me so much insight beyond just hearing aids which was really all I knew as an incoming graduate student; it introduced me to all the subspecialties of the field and fostered my love and curiosity for vestibular and electrophysiology. I am currently a part-time faculty member at University of Southern California and a full-time mother of two. University of the Pacific has and will always have such a special place in my life – it has blessed me with some of my closest friends and some of my most trusted advisors in faculty, both of which I could not have asked for more.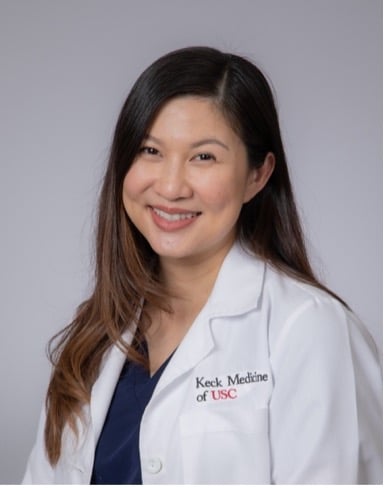 Giving Back to University of the Pacific Audiology
Adjunct Teaching, Preceptors and Guest Lecturing
Share your experience with the next generation of audiologists. The Audiology Department needs adjunct teachers for 10 classes per year and preceptors for 1-3 days weekly ($65/hour). Not ready to commit to a full class, but want to try it out by giving a guest lecture? We have plenty of opportunities! For more information or how to apply to the pool, contact pacificaud@pacific.edu.
Giving Back
Alumni giving is critical to ensure the legacy of the University of the Pacific Audiology. We need your support now more than ever. Please consider making a gift by giving in one of these ways here:
Audiology Restricted Scholarship Fund: This is a current use fund given out each year at the White Coat ceremony in the fall.
Bob and Martha Hanyak Audiology Student Travel Endowed Fund: This endowed fund helps support students in their expenses as they attend either at state or national audiology conference.
A. Stephenson / Parker Diversity in Audiology Endowed Scholarship: This endowed scholarship helps attract and retain diverse students.
You can also establish a class pledge with your cohort for matching funds during Pacific Gives. Please contact Lana Watts, lwatts@pacific.edu, for more information.
Congratulations Class of 2023!
Welcome Class of 2023 to our Audiology Alumni Family!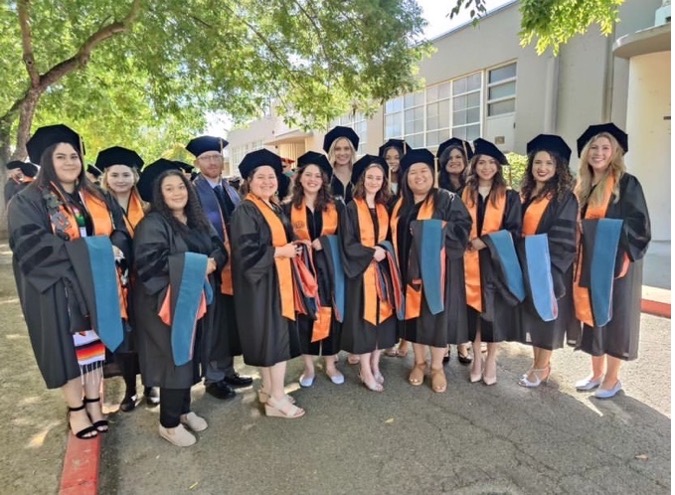 Cita Bianca Alcala, Au.D.
Fabiola Alvarez, Au.D.
Alyssa Carrillo, Au.D.
Alexis Dalager, Au.D.
Zarghona Fazli, Au.D.
Kristan Fimbres, Au.D.
Jane Honda, Au.D.
Danielle Kopplin, Au.D.
Anasimon Mannsore, Au.D.
Marjorie Meyer, Au.D.
Thasveen Sandhu, Au.D.
Mayra Tagle, Au.D.
Rachel Terron, Au.D.
Courtney Tramacera, Au.D.
Juliana Velasquez Briones, Au.D.
Anna Walters, Au.D.
Student News and Events
2023 American Academy of Audiology Conference
Our Audiology students presented several research posters and we had a wonderful alumni reunion!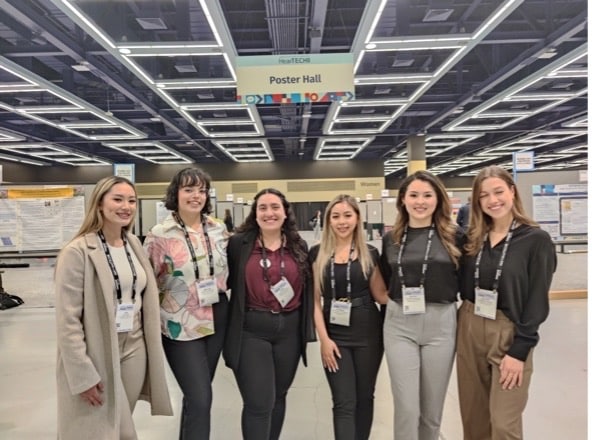 School of Health Sciences, Employer Showcase
We hosted our inaugural Employer Showcase featuring employers from local and national organizations including hospitals, private practices, industry partners and government agencies who were specifically looking to hire Pacific students. Our students were able to meet and network with audiologists as well as recruiters.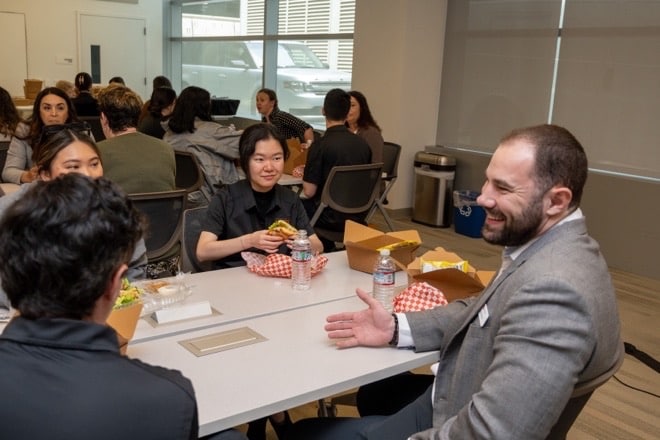 28th Annual Senior Smiles and Wellness Health Fair
Audiology students and faculty had a great time providing free hearing screenings for seniors in the community.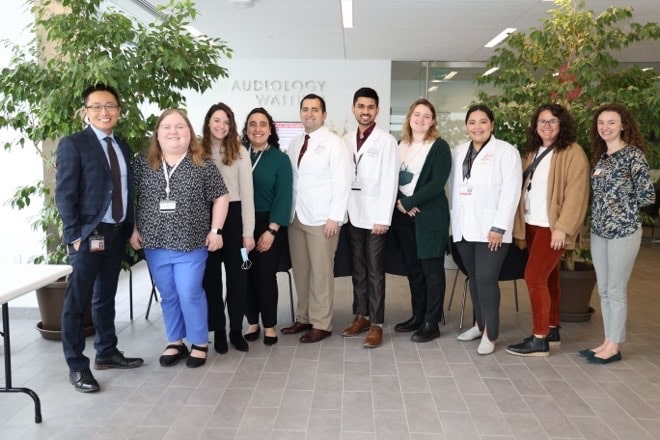 Bay Area Walk4Hearing
University of the Pacific, Student Academy of Audiology participated in the Walk4Hearing to bring attention to hearing loss and promote the importance of hearing health.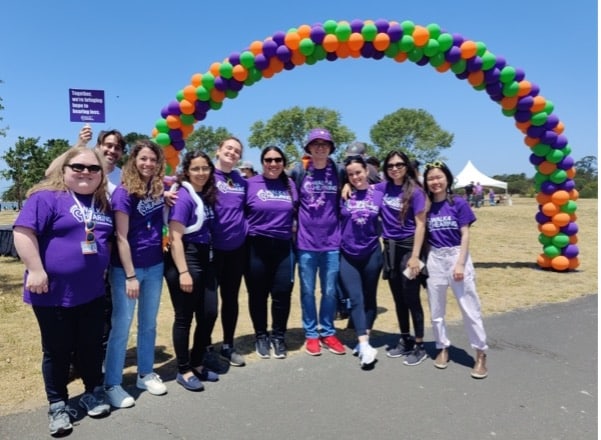 Externship Sendoff for Class of 2024
Congratulations to our Class of 2024 as they are now headed off to their externships!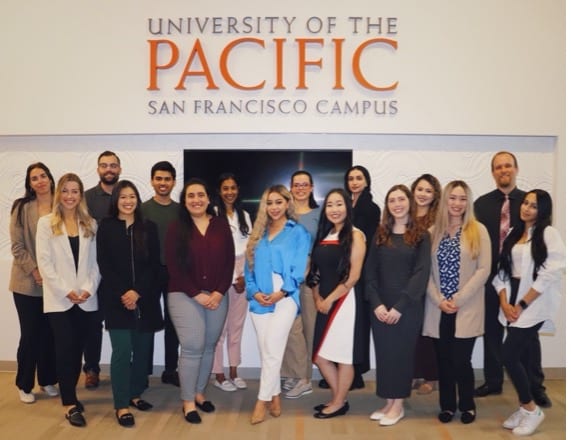 | | |
| --- | --- |
| Name | Externship Site |
| Christopher Barajas | US Navy |
| Madeleine Buchanan | Toronto General Hospital |
| Dezsiree Khamosh | Kaiser Permanente, San Francisco |
| Kabrina Do | New Orleans VA Medical Center |
| Giana Hatem | Audiology Associates |
| Analisa Johnson | Kaiser Permanente, Redwood City |
| Jade Kwan | UCLA Health |
| Gabriel Liboiron-Cohen | Berkeley Hearing Center |
| Jacob Nimmo | Sacramento VA Medical Center |
| Fariyah Omarshah | Kaiser Permanente, Union City |
| Siddhesh Palashikar | ENT Hearing Associates of Florida |
| Kathleen Parker | Orange County Physicians' Hearing Services |
| Myriah Pitt | Denver Hearing Specialists |
| Mayra Rodriguez | Kaiser Permanente, Santa Clara |
| Sanjna Saini | Kaiser Permanente, Vacaville |
| Hind Shihadeh | Live Better Hearing + Balance / Rise Audiology |
Department News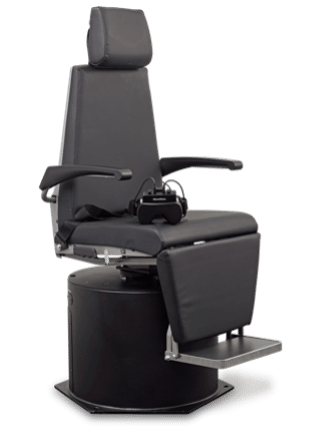 Drs. Celia Zhang, Julia Chung and Melanie Rosenblatt were awarded a Technology in Education Committee (TEC) grant titled "Rotary Chair for Teaching Vestibular Function Assessment." The grant funds along with the generous support from the Department and the Dean's Office will allow the Audiology Department to train students with cutting-edge technology to assess vestibular function. With the rotary chair suite, the University of the Pacific Hearing and Balance Center will be one of the few providers with this advanced clinical service in San Francisco!
We are excited to host four new adjunct professors to teach the Counseling and Auditory Implants classes. Welcome Drs. Ramirez, Buglisi, Ward and Larky!
Samantha Ramirez, Au.D. is a Supervising Audiologist at Kaiser Permanente in Redwood City. She will be co-teaching the Counseling class with Dr. Buglisi.
Claudine Buglisi, Au.D. is the Chief Audiologist at Kaiser Permanente in Redwood City. She will be co-teaching the Counseling class with Dr. Ramirez.
Kristina Ward, Au.D., Ph.D. is a Research Associate and Pediatric Audiologist at Lucile Packard Children's Hospital Stanford. She will be co-teaching the Auditory Implants class with Dr. Larky.
Jannine Larky, Au.D. is the Audiology Director of the Cochlear Implant Center at Stanford Ear Institute. She will be co-teaching the Auditory Implants class with Dr. Ward.
Connect with Alumni & Current Students
Help us keep you connected:
Please let us know if you have moved or changed your email or mailing address at the button below. Keeping your information current will bring you University of the Pacific Audiology news, job alerts, and alumni updates.