Upcoming Alumni Events
Join current students, faculty, and alumni for the inaugural University of the Pacific, Alumni Reunion during the AAA Conference in Seattle. Make your travel arrangements now!
Alumni Spotlights
Veronica Koo, Au.D. – Class of 2018
I chose the field of audiology as a student as I was interested in a career that would allow me to help people. I stumbled upon the subject of audiology during my post-baccalaureate program in speech and hearing sciences at Portland State University. Like many people in this field, I was initially interested in speech-language pathology. However, I quickly realized I had a deeper connection with audiology based on my experience as a singer. I applied for the Doctor of Audiology program at the University of the Pacific (UOP) intentionally knowing that I would be in the first graduating class of audiology students. I purposely chose this program for that reason because I wanted to be a part of something new and exciting. On top of wanting an excellent education, I wanted to take on leadership roles and connect deeper with the community. UOP's Doctor of Audiology program allowed me to achieve these goals. Little did I know how big of an impact my experience at UOP would have on me and the person I am today.
The Doctor of Audiology program at UOP is where I gained practical knowledge, a professional network, and my personal confidence. During my time at UOP, I had the privilege of taking on the role of president for our local chapter of the Student Academy of Audiology. This was the first leadership opportunity I had ever taken on. Additionally, UOP's Doctor of Audiology program established a collaboration with Entheos Audiology Cooperative, a collective of hearing professionals committed to reconnecting with the larger purpose of their private practice. Through my participation with Entheos I had the opportunity to join a humanitarian trip to Jordan to provide hearing health care to underserved people. The UOP Doctor of Audiology program provided me with the time, resources, and skill sets needed to develop a hearing aid project between our program and Entheos that allowed me to practice creative and critical thinking to continue to help make a difference internationally. Lastly, members of the faculty in the UOP Doctor of Audiology program were closely connected with the California Academy of Audiology (CAA), a nonprofit organization that fights for legislative rights of audiologists in California and holds an annual conference for audiologists to obtain continuing education credits. During my time in the program, I was able to actively participate in CAA by serving as a student volunteer for the annual conference. This led me to become the student volunteer coordinator for CAA in future years. The faculty in the UOP Doctor of Audiology program also organized networking opportunities to meet with local audiologists, which helped me to develop relationships with mentors that are still part of my professional network today. I was fortunate to have excellent internship rotations set up by the UOP audiology clinic coordinator, including placements at the Stanford Ear Institute, UCSF, and Camino ENT. I am grateful for my experience in the Doctor of Audiology program at UOP as it has empowered me to get me where I am today.
I currently work as a clinical pediatric audiologist at Stanford Children's Health. This year I hold the role of president for the CAA. I am on the board for Pacific Hearing Connection, a nonprofit organization aiming to address, educate, coordinate, and provide hearing healthcare to under-served and under-insured communities on a local level. I also serve on the Student Initiative Committee for Entheos Audiology Cooperative and have gone on three audiology humanitarian trips – to Jordan, Guatemala, and Ecuador – with the organization. The Doctor of Audiology program at UOP will forever hold a special place in my heart and I would like to extend my continued appreciation for all the faculty who played a substantial role in facilitating my growth as a clinician, leader, and person.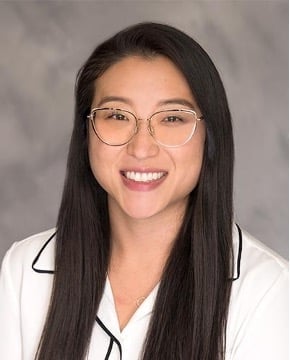 Benjamin Thompson, Au.D. – Class of 2018
In college, I had an interest in health and music. I wanted to explore if audiology could provide a bridge between the two specialties. I started to get involved with raising awareness about loud noise exposure and concerts. I found a passion for the intersection of healthcare, music, and service.
My most memorable experiences at UOP were internships at top clinical centers in the San Francisco area. I was able to work under the city's top tinnitus doctors and got experience at three different clinical settings. I was fortunate that I went to a new audiology program that offered the most immersive tinnitus courses available. I realized that I loved working with tinnitus patients because of the psychology, learning how to control our mental reaction, and the holistic approach to recovering from tinnitus. My experiences in San Francisco allowed me to interact with technologists and entrepreneurs, which surely helped me in my journey of starting a telehealth business.
I am the founder of Treble Health, a health-tech company that provides care to patients with tinnitus. We have 12 employees and have helped over 3,000 individuals gain control over their tinnitus. I started a YouTube channel in 2020, which has gained 50,000 subscribers and millions of views. I have been a featured speaker with a leading national audiology organization, the American Doctors of Audiology (ADA).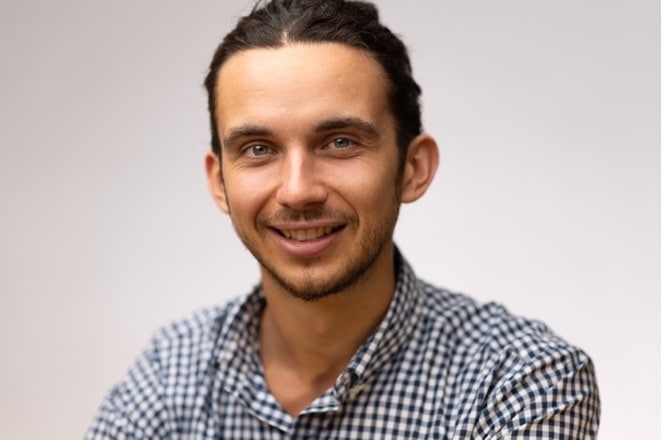 Giving Back to University of the Pacific Audiology
Adjunct Teaching, Preceptors, and Guest Lecturing
Share your experience with the next generation of audiologists. The Audiology Department needs adjunct teachers for 10 classes per year and preceptors for 1-3 days weekly ($65/hour). Not ready to commit to a full class, but want to try it out by giving a guest lecture? We have plenty of opportunities! For more information or how to apply to the pool, contact pacificaud@pacific.edu.
Giving Back
Please bookmark your calendar for Pacific Gives 2023 – The fun occurs from noon on April 25 to noon on April 26. We are highlighting is the `Bob and Martha Hanyak Audiology Student Travel Fund,' which funds students to attend state and national conferences. All donations will be matched 1:1 so your support can make a HUGE difference. Stay tuned for more information as the date approaches! For more info now, contact Lana Watts at 916-325-4656 or lwatts@pacific.edu.
Recent Alumni & Current Jobs
Are you looking for a networking opportunity? Have you lost touch with classmates? Click the link to see where your fellow alumni are working.
| | |
| --- | --- |
| Name | Class of 2022 (Current Work Place) |
| Rosana Amaro | Clinical Audiologist, San Francisco Audiology |
| Edina Atanos | Clinical Audiologist, VA Palo Alto Healthcare System |
| Munirah Awad | Clinical Assistant Professor, University of the Pacific |
| Jasmine Carino | Clinical Audiologist, Hearing and Speech Center of Northern California |
| Jenna Cullinan | Clinical Audiologist, San Francisco Audiology |
| Akosua Darko | Clinical Audiologist, Ear Nose & Throat Carolina |
| Esmeralda Espino | Clinical Audiologist, ENT Surgical Associates |
| Amber Fletcher | Clinical Audiologist, ENT Associates of Santa Barbara |
| Megan Korbelik | Clinical Audiologist, Adobe ENT & Allergy |
| Rhonda Labib | Clinical Audiologist, Kaiser Permanente Walnut Creek Medical Center |
| Ho Ming Lau | Clinical Audiologist, San Francisco Ear, Nose and Throat Medical Group |
| Mia Malkin | Clinical Audiologist, Bay Area Audiology and Hearing Aids |
| Kiyana Sagarang | Clinical Audiologist, Texas Children's Hospital |
| Natalie Sienko | Clinical Audiologist, UCSF Health |
| Kyleigh Takahashi | Clinical Audiologist, Advantage ENT & Audiology |
| Patricia Anderson | Clinical Audiologist, California Hearing Center |
| Sara Tennant | Clinical Audiologist, Davison Audiology |
| Matthew Vo | Clinical Audiologist, Loma Linda VA Medical Center |
| Katherine Yeh | Clinical Audiologist, Hear USA |
Student News and Events
Veteran's Health Event: November 2022
University of the Pacific Audiology students participated in hearing screening for veterans in the community.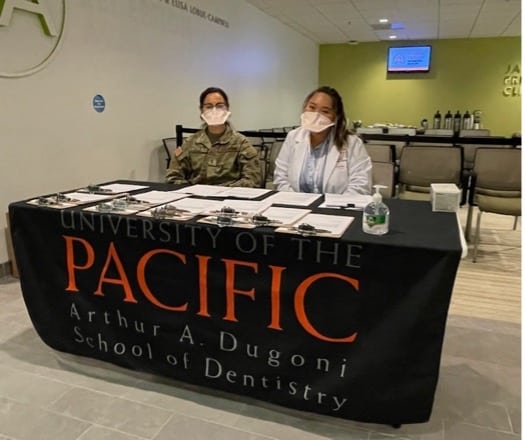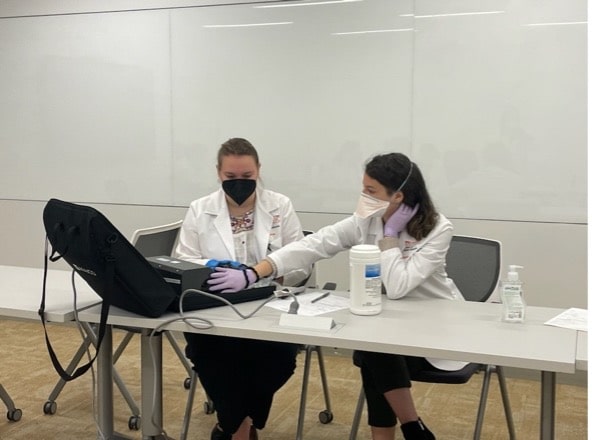 Hearing Aid Workshops with Oticon and Signia
Dr. Fadi Najem invited Oticon and Signia to his amplification class for a demonstration on their new hearing aid fitting software.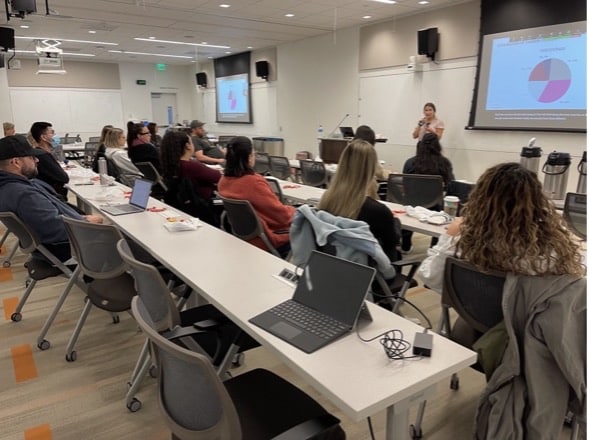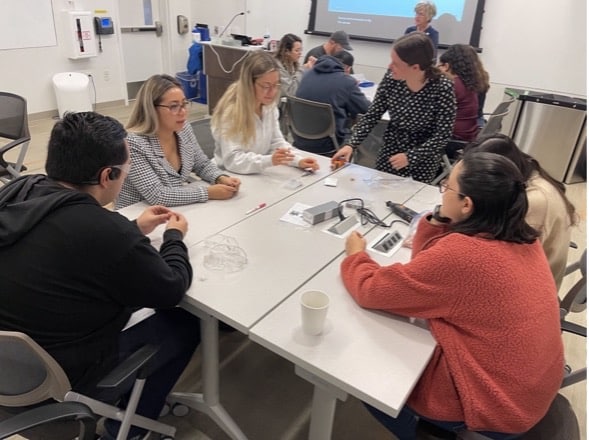 Student Presentations at the 2023 American Academy of Audiology Conference
Second year Au.D. students are wrapping up their projects and will be presenting their research findings at the 2023 AAA Conference in Seattle. Stop by to learn what they're researching!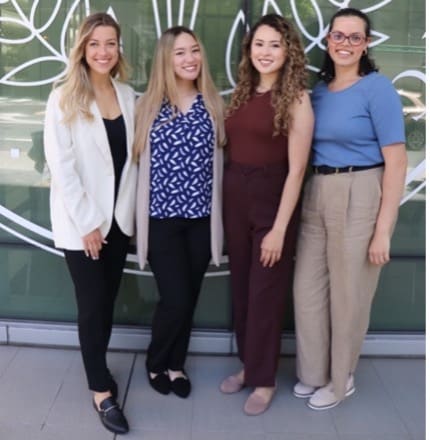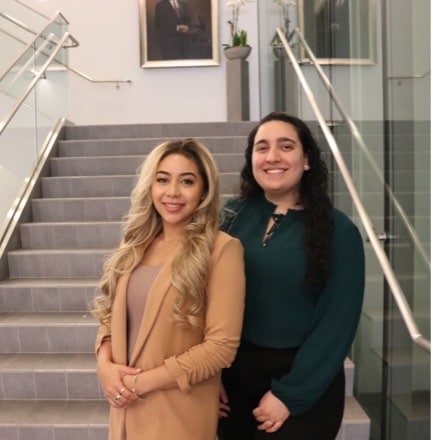 Department News
New Staff Update: Weeko Vang
Weeko is a neat and dedicated health professional who looks forward to creating a lasting positive impact in health care. She is excited and proud to explore new roles and adventures as the new administrative assistant providing support to the Department of Audiology at University of the Pacific. Weeko is a recent graduate of San Jose State University, earning her Bachelor of Science in Public Health, Concentration in Health Services Administration. She was born and raised in the Central Valley as the second oldest to a big family, where her role contributes to the development of some of her greatest interpersonal skills. Apart from her career, she is an enthusiast for traveling who likes to explore new places and sceneries. She also has an interest in sewing and embroidery as pastime hobbies and enjoys shopping as therapy.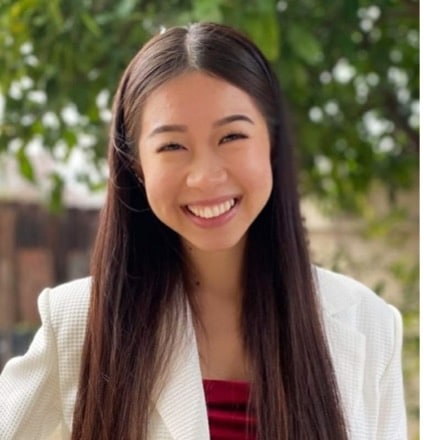 Drs. Julia Chung, Melanie Rosenblatt, and Gabriella Musacchia were awarded a Technology in Education Committee (TEC) grant titled "Remote Video Interpreting Services for Audiology Education." The grant funds will allow the Audiology Department to educate their students on cutting-edge technology for communication with a diverse, multilingual patient population.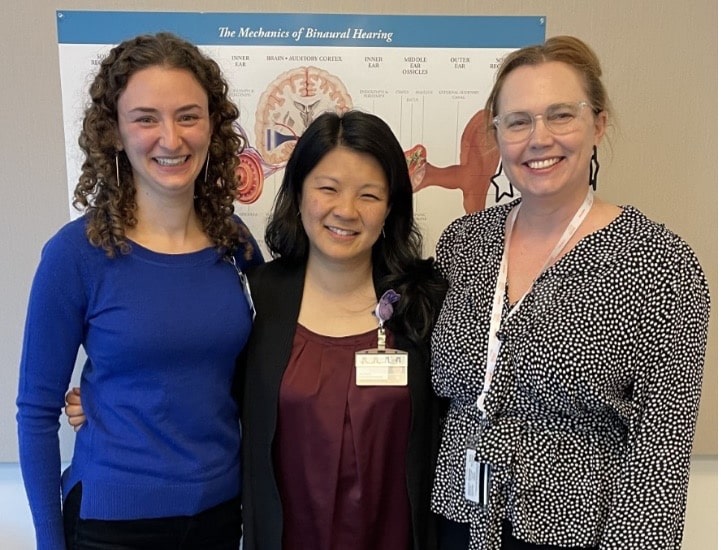 Audiology faculty are co-teaching an undergraduate course in Hearing Health, SLPA 057. The course covers introductory topics ranging from hearing loss prevention and restoration across the lifespan to evidence-based practice within the audiology field. The undergraduate students are having a great time learning from the Audiology faculty!
Our Audiology students are loving the new and improved Student Lab! We currently have four working stations: Audiometry, Hearing Aids, Instrumentation, and Electrophysiology.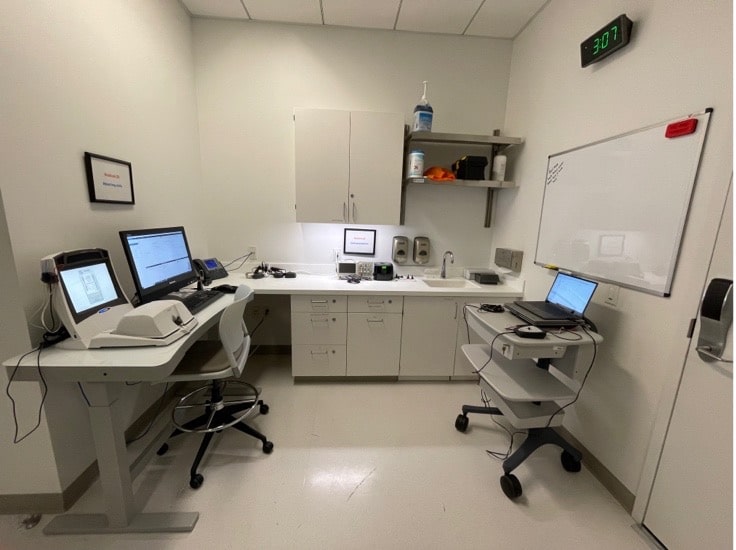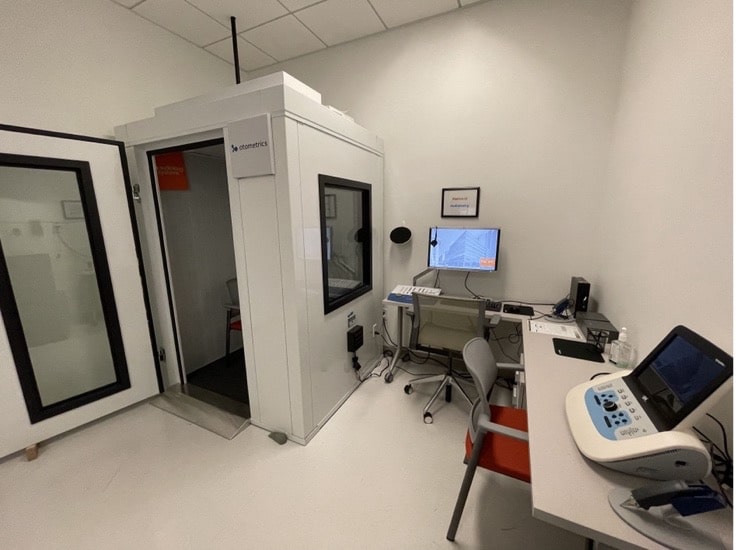 Faculty News
Dr. Rupa Balachandran has a new role as Assistant Service Chief, Audiology and Speech Pathology, with the VA at Northern California Health Care Services. She is based out of the Martinez VA Medical Center. I asked her what she would like to share with her Pacific community:
"I am having a great time here at Martinez and while I miss seeing all of you on a regular basis, it is great to be a patient care provider. The VA is a great place to be an audiologist. The focus on patient care and wholistic approach to hearing health care makes it an ideal workplace for audiologists. The VANCHCS is growing very rapidly and since we cover the territory from the Oregon border down to Modesto and Sonora, there are many opportunities for telehealth. The VA is also a great incubator for many practice innovations like working with health techs and tele-techs to optimize patient care outcomes and to include auxiliary health professionals to improve access and waiting times for audiology services. We have a brand-new audiology clinic that is being built in Stockton which will create many opportunities for employment, internships, and externships within the VA.
I have been greatly enjoying meeting people and identifying ways to create robust internship and externship opportunities for Au.D. and SLP students. I am also working with School of Health faculty to broaden the relationships with other degree programs and to strengthen pipelines for UOP grads into the VA. I know how well the students at UOP are trained, so I am a great advocate to hire as many UOP grads as we possibly can!
Well, it's only been a month, so I will check back in with more updates. Look forward to seeing everyone at SHS day and not to forget commencement 2023!!!"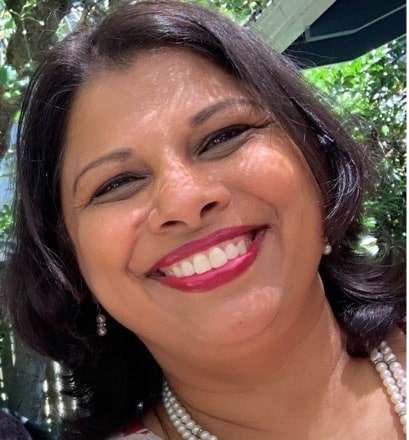 Connect with Alumni & Current Students
Help us keep you connected:
Please let us know if you have moved or changed your email or mailing address at the button below. Keeping your information current will bring you University of the Pacific Audiology news, job alerts, and alumni updates.
Update your information: pacificaud@pacific.edu.