Getting your hearing tested, deciding on the perfect hearing aid for you and wearing the device around until you are comfortable is the hard part. Protecting your hearing aid from the world is easy, especially when you know what to do when disaster does strike.
Drop Your Hearing Aid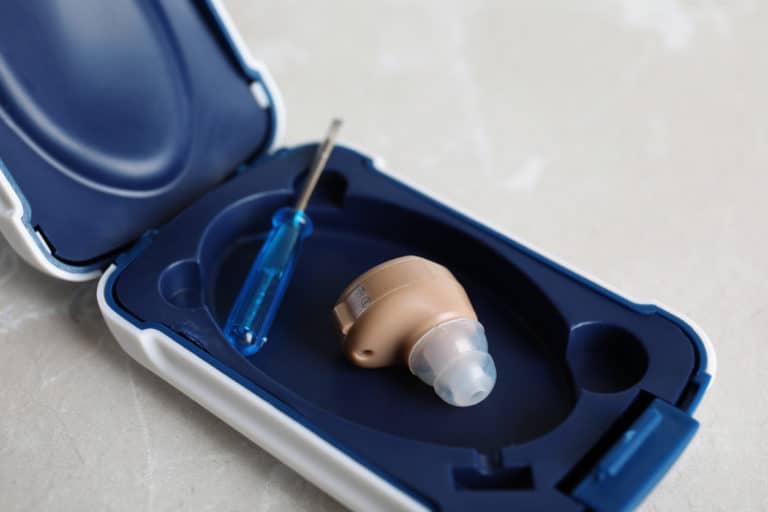 Wearing your hearing aids when you go outside is important for both your enjoyment and safety. But when donning a hat, scarf or headband, you can accidentally get these items caught on your behind-the-ear hearing aids and yank them out of your ear.
If this happens, stop what you are doing and ask everyone around you to stand still. You don't want someone to step on or kick your hearing aid. Check your clothing to see if your hearing aid got caught on something before it hit the ground. Try to think about where you last remember having it, paying specific attention to a time when you felt something brush against your ear.
An easy way to prevent this from happening is to invest in a security device, such as clip to keep the hearing aids attached to your body. Custom-fit earmolds can also ensure your hearing aid stays in place, even when tugged at.
Wear Your Hearing Aid in the Pool or Shower
Like most electronic devices, hearing aids are not designed to get wet. While they are water resistant, as they often are exposed to sweat, they are not waterproof.
If you forget you are wearing your hearing aids and accidently wear them somewhere you shouldn't, remove them from your ears immediately and dry them with a towel. Open the battery dome, remove the battery and place the devices in their case or a hearing aid dryer. Let them rest for a few hours or overnight. In the morning you can put in new batteries and turn them on. If they don't work, schedule an appointment with your audiologist.
To prevent this from happening in the future, try leaving yourself a note reminding you to take out your hearing aids next to the shower or clipped to your bathing suit or towel.
Drop Your Hearing Aid down the Drain
Many get into the habit of taking their hearing aids out while getting ready for bed, leaving them precariously placed on a shelf in the bathroom or on the side of the sink.
If a hearing aid goes down the drain, don't run the water. A plumber can remove the p-trap under the sink to retrieve it. If the hearing aid gets knocked into the toilet you may be able to retrieve it, as the protective coating on the devices can be disinfected with alcohol. A hearing aid in an unflushed toilet should be considered a biohazard and destroyed.
The best way to prevent this from happening is to never take your hearing aids out of your ears when in the bathroom. Instead, find a safe place in your home to designate as the landing zone where you put and take out your hearing aids and store their case.
If you must remove them in the bathroom, keep them in your ears until you place a plug in the sink and close the toilet lid.
Eaten by a Pet or Child
Children and pets are notorious for putting anything and everything in their mouths. Check their mouth to retrieve the device and check for any broken off pieces. Batteries can be fatal, so if your hearing aids were swallowed, seek immediate medical attention.
If you are able to retrieve the hearing aids and there is no visible damage, clean the device with alcohol and see if it still works.
To learn more about keeping your hearing aids safe or to schedule an appointment with a hearing expert, contact University of the Pacific today.